Stuph supplies high-quality food-grade emulsifier for the production of sophisticated, well-formulated nano-enhanced skincare and cosmetic products, including creams, lotions, ointments, gels, foams, decorative cosmetics, soaps, bath bombs and hair care.
Nano-Enhanced Skin Care and Cosmetic Products
Skincare, personal care, cosmetic and make-up products often include active ingredients such as bioactive photo-chemicals, antioxidants, essential oils or other hydrophobic substances, which give the final product special nourishing and nurturing properties (e.g. CBD for relaxation and anti-ageing, vitamins, resveratrol and CoQ10 for cell reparation and anti-ageing, essential oils as antimicrobial etc.).
When those bioactive molecules are just added to an aqueous product formulation, an efficacious, stable mixture might not be achieved. Since those molecules must be transferred into the cells of the human body and since most of the outer and inner cell space are water-based, those bioactive molecules must be water-soluble to be transported into the cells and must have a very small, nano-sized shape to penetrate the cell.
Nano-emulsions encapsulate the bioactive, often hydrophobic compounds into a nano-sized oil-in-water formulation, which enables the bioactive molecules to be transferred into the cells, where they can enfold their properties.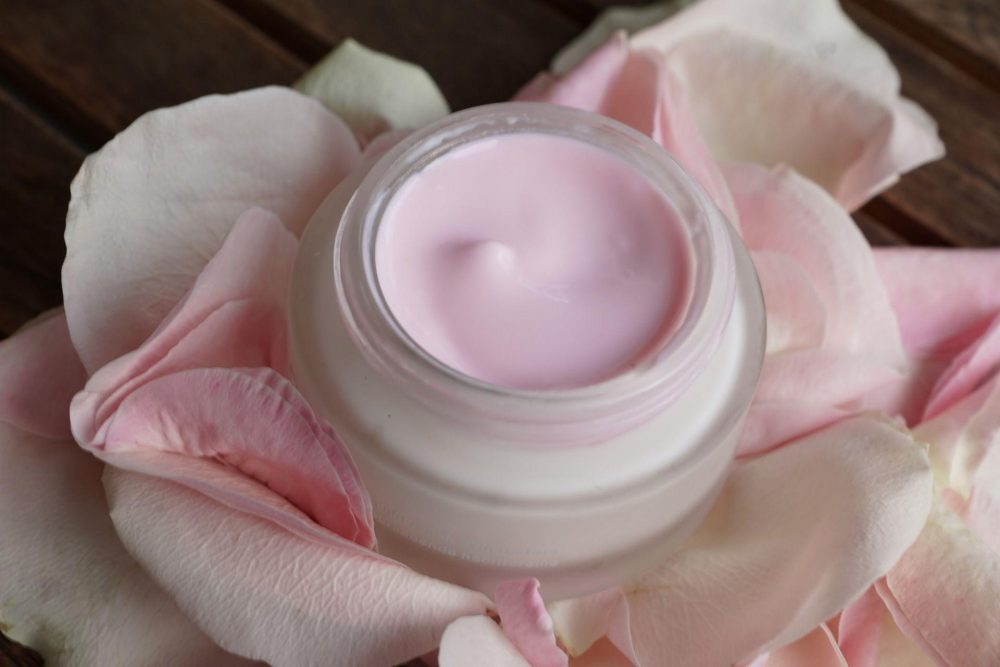 In order to create a long-term stable nano-emulsion, an efficient emulsifying agent (surfactant) is required.
cream Stuph™ emulsifier is a natural, food-grade emulsifying agent, which helps you to formulate your nano-enhanced skincare or cosmetic products in a rapid, simple process.
Advantages of Stuph Nano-Emulsions for Skin Care and Cosmetics
high skin delivery efficiency / absorption for active ingredients
high kinetic stability and shelf-life
superior sensory and aesthetic quality
high efficiency, only small amounts of surfactant required
no interference with fragrance or texture
Nano-Emulsions in Skincare and Cosmetics
Nano-emulsions allow for a significantly higher potency of active ingredients in body lotions, skin creams, balsams, salves, gels, ointments, skin care sprays, sunscreens, make-up, lip gloss, hair care, soaps, and other cosmetic products.
Create your customised, proprietor formulation with Stuph emulsifiers!
CBD Nano-Emulsions for Skin Care
Today's consumer market sees an increasing demand for CBD-enriched products – ranging from dietary supplements, foods and beverages to skin care and topical products. Including cannabis-derived CBD into personal care and cosmetic products requires the capability to formulate a long-term stable nano-emulsion. Nano-emulsions encapsulate the CDB into a continuous aqueous phase and make them thereby bioavailable. Bioavailability means that the CBD molecules get into the cells, where they can develop their beneficial effects, such as their anti-inflammatory, anti-ageing and skin-soothing properties.
Common nano-CBD enriched body care products include CDB body lotions, facial moisturizers, serums and cleanser, skin creams, muscle-soothing ointments and sprays, massage oils and balms, lip gloss and lip sticks, hair gels and conditioners, body scrubs, soaps and shower gels, sun screens and after-sun gels.
cream Stuph™ emulsifier is sophisticated 2-component solution for the emulsification of creams, lotions and other skin care and cosmetic products. Typical formulations can consist from a water-based phase and an oil phase plus the active ingredients (such as emollients, antioxidants, vitamins, antimicrobials etc.). The oil phase might be shea butter, olive oil, hemp seed oil, coconut oil, almond oil, castor oil, mineral oil, silicon etc.
For inquiries and more information
Please use the form below or send us an email to info@stuphcorp.com!